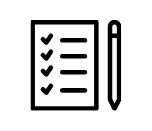 1. Complete your PLA
Identify your strengths, weaknesses, and areas of improvement through the 1-1 sales skills audit. You can also sit in to be assessed in the existing sales role you are and get a certificate of assessment.
2. Upskill
Fill those skills gaps and competencies through recommended training courses, coaching and practice sessions.
3. Get Certified
Get a dual endorsed globally recognized industry certification upon completion of the courses or skills area.
4. Join Think Tanks
Join APACSMA Graduate Sales Alumni community. Benefit from peer to peer learning environment, complementary sales invites, resources, and more...